Hotels started as places where travelers could get food and shelter, but now hotels go beyond the bare minimum. Hotels have become outlets of luxury, convenience, and of course, class from the designs to the hotel furniture and amenities. The hospitality industry has gone through some changes throughout the years, but some of the biggest ones –hotel furniture layout occurred recently.
There is also the fact that hotels now bring in $206 billion and counting as revenue. Needless to say, those in the hotel industry are cashing out big. Being in the hotel industry does not necessarily mean that you own a hotel. There are numerous ways you can be part of this growing field, and one of them is by setting up hotel furniture.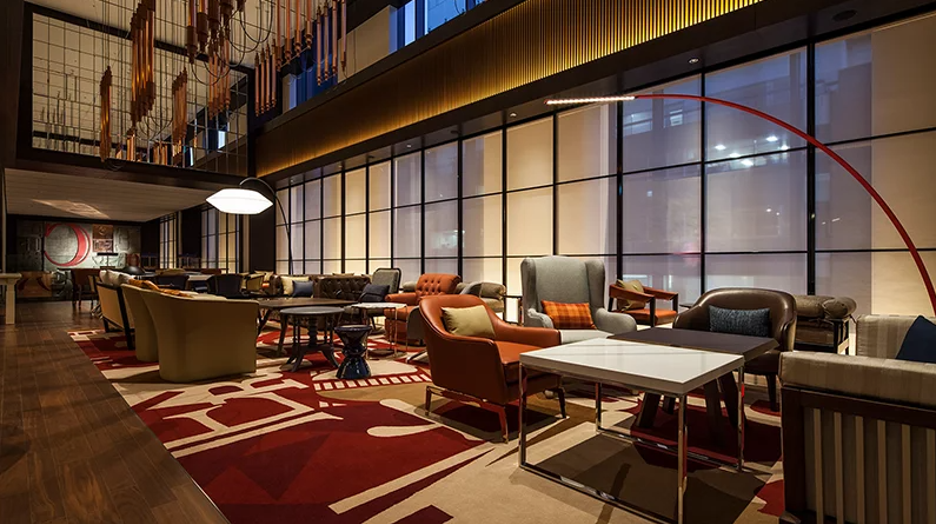 The importance of Hotel Furniture Layout in Hospitality
Have you wondered how do global hotel chains make themselves so popular? Perhaps the biggest difference between you and them is that they have a brand of interior design. Your hotel may look good, but there will be no customers for a long time. One of the key points for customers to consider when looking for a hotel is how they feel about the interior design of the hotel. If the guests are not satisfied with the overall design of the hotel, they are likely to look for other ones. The hotel furniture layout and design in a hotel room or suite determines your rating of the hotel itself (four or five stars), which is why it is important not to belittle the hotel furniture layout.
Good hotel furniture layout ensures customers are always surrounded by function and aesthetics so that they can always keep relaxed and comfortable. In addition, by investing in the proper hotel furniture layout and design, the financial profit of the hotel can be significantly improved, a lasting impression can be left on the guests, and it may even inspire them to book again on their next visit.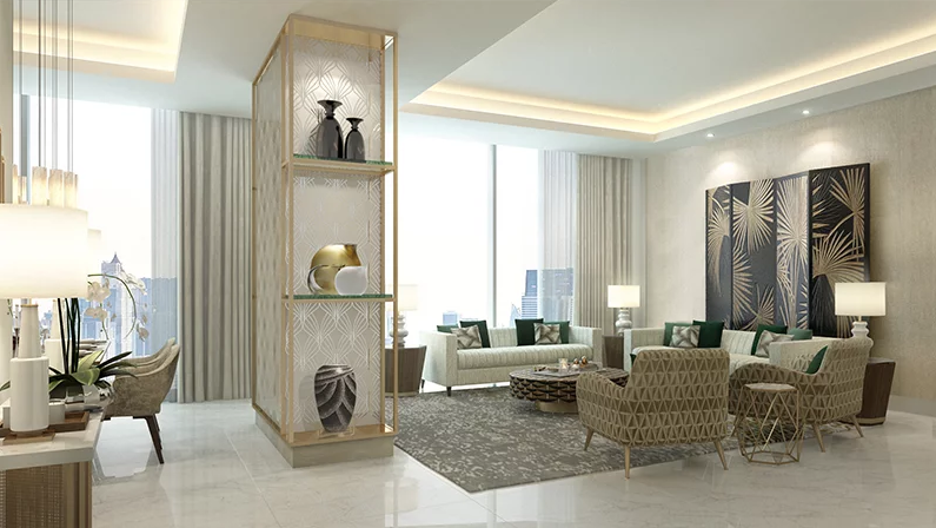 Hotel Furniture Layout for Different Places
If you own a large or small hotel, it is essential to note the trends that occupy the hotel furniture space. Irrespective of the concept behind the hotel, the hotel furniture has to fall in line with its designated area. For instance, how absurd would it be to have a bed in the lobby area?
Different areas come with their furniture and fittings, and this is part of why you need a furniture outlet. The restaurant/coffee shop and bars, for instance, need furniture that is not only good to sit in but sturdy enough to eat in.
The tables and chairs should follow a home dining set feel but with a twist to add a modern hotel furniture flair. Many hotel restaurants these days choose either themes or color schemes for their designs, and hotel furniture outlets cater to those themes.
Lobby area: the lobby area of the hotel is the entrance for any guest, and the interior decoration should match the overall decoration of the hotel, so it must be as simple and spacious as possible. The first thing to keep is loose furniture, such as a cushioned sofa with a central glass table to face the concierge desk and the front desk.
Dining space: hospitality Design covers all aspects, and dining space is definitely one of them. If the restaurant is located inside the hotel, the overall theme and atmosphere imitated in the rest of the venue must be followed. Some hotels are equipped with a cafeteria, while others are equipped with indoor bars. No matter what kinds of restaurants are equipped by the hotel, the hotel furniture in these dining space should be more colorful so as to provide a relaxed and pleasant dining environment for guests.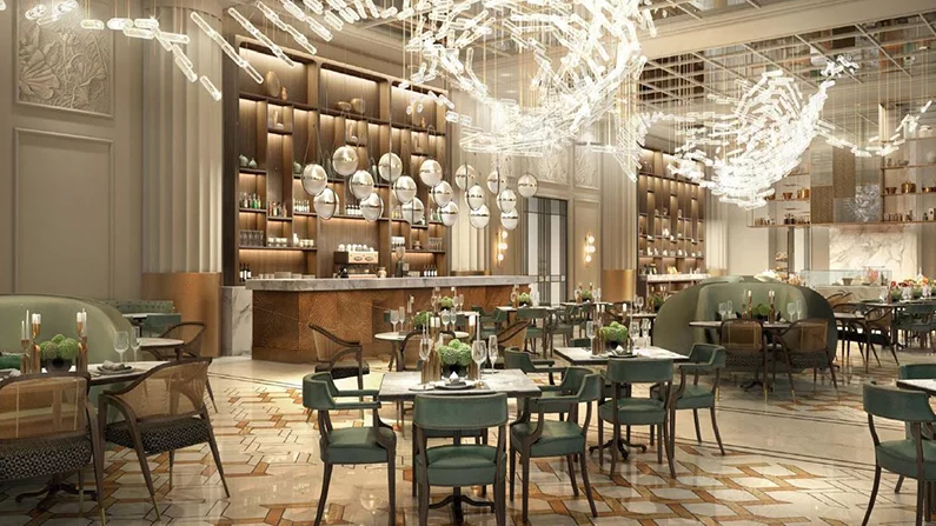 Guest room: hotel room furniture is usually equipped with a single bed, a bedside table, a dresser, a TV cabinet, luggage rack, wardrobe and a small rest area. The hotel room furniture in different rooms need to be set up according to its original themes, but there will be some new trends in some small details in 2020.
Hotel rooms usually have a rest area which is an ideal place to enjoy morning coffee in the room to provide guests with a place to rest or relax. What the rest area needs are comfortable chairs or sofas and a small table. And this small area is generally placed in front of the french windows so that guests can enjoy the scenery outside the window when they have a rest.
If you want to have a table in your hotel room but without enough space, consider using a less traditional bedroom arrangement, which is to place the bed in the middle of the room and the table behind the bed. It's a new trend we see in the hotel furniture layout by doing an easy thing in your hotel rooms to get more functionality from the space.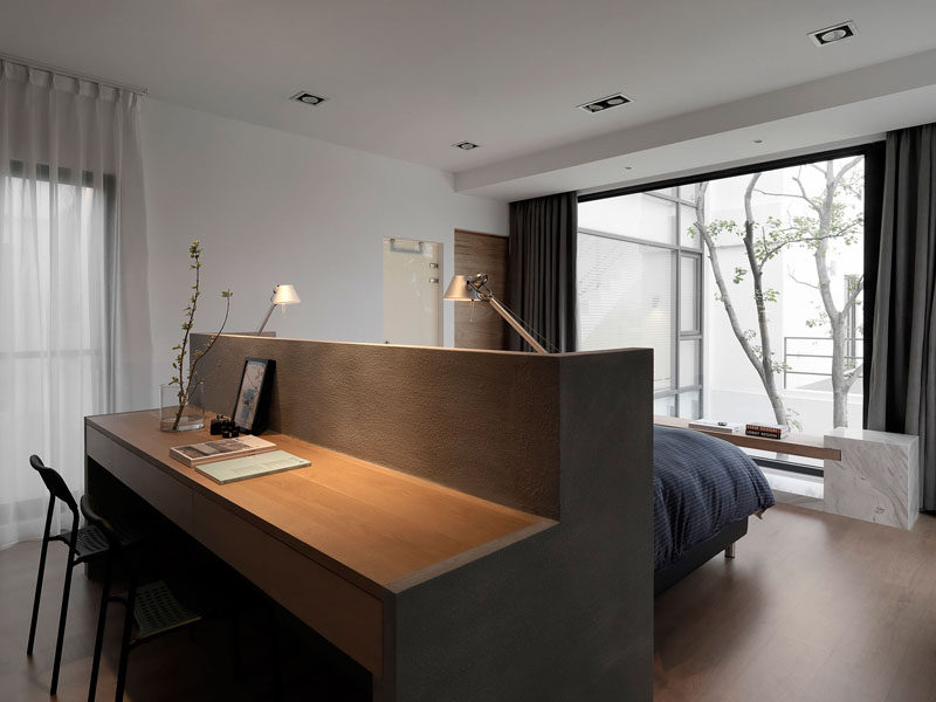 Hotel rooms often have benches for guests siting on there to put on shoes or put some clothes and other things on it. This is a convenient way for guests to access easily. In 2020, the bench at the end of the bed will be an ideal place to put clothes and luggage or a good place to put on shoes in the morning.
So you have decided to change the style of your hotel furniture layout but do not know how to go about it? IFC FF&E can handle your needs. IFC FF&E is a foremost manufacturer and supplier of hotel room furniture for lots of global hotel chains. With clients in over five continents around the world and 28 years of experience in luxury hotels, IFC FF&E provides quality for all your hotel furniture needs.